More Bipolar Than it Seems
February 7, 2010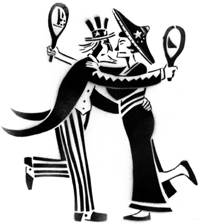 When you look around the global arena, who stands out?  It certainly isn't nation in Europe, Africa, or South America.  There are really only two legitimate superpowers that harbor the necessary military and economic might backed by a sizable population:  America and China.  And, in case you've been sedated by the lofty peace rhetoric of the 1990s – frequently preached by the Anglo-Saxon West – let me burst your optimistic bubble.  Security is the game and power is how you play.
The recent $6.4 billion arms agreement by the U.S. to Taiwan is one small illustration of the type of game that the U.S. and China play.  Although this relatively minor quibble isn't like to start a world war, China's response shows that U.S. meddling within its sphere of influence (or, in this case, its backyard) is not something that sits easy with Beijing.  In fact, it really pisses them off.  At the 46th Munich Security Conference, the Chinese representative gave a rather confrontational response to the recent U.S. arms sales to Taiwan, stating:
Of course the Chinese government and the people have to react. It is within its sovereign right to do what is necessary.  I think the Chinese people and the government of every region should feel indignant about this thing… We have one fifth of mankind. At least we deserve a chance to express our views on how things should be run in the world.
Sure, this could simply be fiery rhetoric, but it probably isn't.  As indicated, if the deal goes through China will respond by sanctioning certain U.S. companies related to the arms sales industry (whatever that means).  What's more significant though is that the U.S. seems to be playing with fire at the least opportune time.  Quibbling between China and the U.S. over Taiwan is nothing new.  However, what is new is the relative shift in power.  Never has the U.S. been so confrontational with China when its fortunes seem on the decline and China's future so promising.  The roles have been somewhat reversed.  China really does account for 1/5 of earth's entire population and is on pace to take the reigns as global economic leader within the next 50 years.  Generous forecast say that by 2040 China will account for 40% of the world's GDP, dwarfing the U.S.'s measly 14% (more conservative estimates say a little above 30%).  Add this to China's somewhat unsettling latent power capabilities and the result is a prospective hegemon.  One characteristic of a hegemon, or a potential hegemon, is their ability to project their powers outside of their immediate spheres of influence.
China, to no surprise, is perfectly capable of such feats.  In addition to its comments about feeling indignant about the U.S. selling weapons in their backyard, the Chinese representative made known that the Chinese government would block any new UN sanctions leveled against Iran and would continue to work on a deal to import uranium for enriching.  At first glance, such moves may appear as insignificant great power bickering.  But there is more to it than than first meets the eye.  As I remarked in an early post of mine about U.S.-Iran-China relations there is the inkling of a nascent Cold-War style international structure underneath all the fuss amidst Iran's nuclear ambitions.
Perhaps what's most interesting in all of this is the emergence of a post-Cold War balance of power structure. What goes often unmentioned in discussions about Iran is their recent energy deals with eastern European and Asian states – and not the minor players either. Powerful states such as Russia, China, India, and Pakistan have enabled Iran to continue to develop despite the shaft its received from the West (primarily the United States) by making energy deals to boost its economy and further distance itself from reliance on energy from Western states or Western-based corporations. Most pointedly, these states have made it explicitly clear that they don't intend to cease or alter the conditions of their deals with Iran because of U.S. pressure.
Much like they have in the past, the U.S. and China will compete for power in a zero-sum international vacuum.  As China begins to assert itself as a competitive global power it will challenge U.S. hegemony on several fronts, Taiwan and Iran being two examples out of many.  How the game plays out and what moves each player chooses to take are unclear.  However, there is one thing that is nearly certain.  The notion that the U.S. and China can peacefully coexistence without stinging each others nerves is more of a pipe-dream than a reality.  Neither power is likely to defer to the other's control over their regional spheres of influence and both are likely to engage in a Cold War-like bipolar struggle.
Lofty rhetoric and kowtowing aside, the bottom line is we don't trust them and they don't' trust us.  It's a security dilemma.  It's been this way since 1648.  It will be this way in 2048, granted the good Lord don't come a knockin', horses and all.  CFR fellow Elizabeth Economy's recent blog post nicely summarizes the real characteristics of U.S.-China relations, and it's nothing knew under the sun.
There is nothing new here. We are merely witnessing the reality of the U.S.-China relationship, which is marked by almost no trust, a weak foundation of real cooperation, and a lack of shared values and commitment to true compromise.
Bismarck ain't dead ya'll, and Kissinger isn't a ruthless baby killer.  They simply understood the uneasy and always volatile relationship of nations.  It would behoove (that's pronounced be-hoooove) everyone to understand that.